Did you know that there was a day to celebrate our love of YARN?
I didn't know until I ran across a post a couple years ago from CraftYarnCouncil. If I remember correctly, I was looking for some standard sizes for socks and ran across their site in my research. Their site also has free patterns as well as party ideas and tips for teaching others how to Knit and Crochet. By the way, I never got those socks made, it was a last ditch effort in trying to love knitting. Don't get me wrong, I don't hate knitting, I just prefer crochet (and I'm better at it than knitting =D).
Tomorrow, Friday, October 11, 2013, is I LOVE YARN DAY. The following information is from their site at www.craftyarncouncil.com/I-Love-Yarn.
"Whether you knit, crochet, craft or just adore fiber, October 11th, 2013 is the day to affirm your passion for yarn.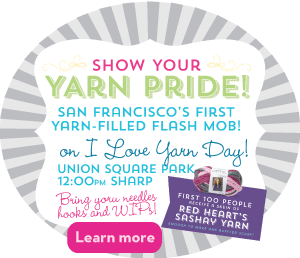 Show it off, tag with it, carry it, gather with friends. Declare your LOVE! Get involved.
Create an I Love Yarn Day badge
Teach someone to knit or crochet
Do something for charity

Wear a knitted or crocheted item

Give a gift of yarn

Take your yarn to work day

Host a yarn-a-bration party

Knit, crochet and craft in public
Host a yarn-a-bration party and plan a fun activity."
So what about you, do you have something planned for I Love Yarn Day? I do. I'm gonna crochet the day away! Because for me, everyday is I Love Yarn Day!
Have a great week, be safe and make it a point to make a difference today.
Peace and blessings,
~~Karen~~